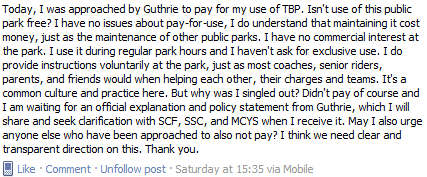 Just the other day, I came across this on Facebook. Someone made some comments about the Tampines BMX track. Apparently, Guthrie FMC is now in charge of the Tampines BMX track and now it seems that people have to pay to use the park if you are conducting clinics. Fair enough...it is maintained by them and I suppose one has to pay for wear and tear. But this posting yesterday really was the last straw:

What the heck is this about? This is going too far! So apparently now we have to pay to take pictures at the BMX park? It seems that pictures taken for commercial use will be subject to payment to Guthrie but apparently, pictures for keepsakes and non-profit use will be free. The thing is, how do we separate the two? Its really exasperating that this is happening. Somehow, I knew something like this would happen after the YOG games.
So what did I do? I did the only thing possible. Call up the Guthrie FMC office and ask for an explanation. But more often than not, I was taken for the run-around. Left my phone number but people did not call me back, sent emails but no response as well.
Alexander Guthrie and his nephew James Guthrie must be rolling in their graves. Imagine, when Guthrie asked William Farquhar for permission to build his godowns near the Singapore River way back then, he was not given permission. When Guthrie threatened to leave Singapore and do business somewhere else, Farquhar and later, Raffles, caved in because they knew that Guthrie was right. It is a shame that the company that he founded, the one that bears his name till today, could be like this.
In any case, I have said what I want to say and I had a chat with someone who looks after the Tampines BMX park. Apparently, even those who come into the park to take pictures with a new bike (probably to capture some of the surrounding scenery) will be levied with a charge as well. I did tell the Guthrie representative that I did not see eye-to-eye with this as this does not constitute wear-and-tear of the BMX park. And I also told him that there is a very fine line to draw between what photographs are commercial and which are not and I did not see eye to eye with that, as it does not help with the development of the sport. At least we agreed t disagree. A nice gentleman and a pleasure to talk too. Thanks Bobby!